Grammy's 2015 Fashion Trends | Featured Celeb Jewelry
Posted on
Don't say we didn't tell you!
We called this year the Year of the Emerald, and true enough, pop's biggest superstars were all draped in green at this year's Grammy's!
Cleavage was a popular accessory at the Grammy's 2015! Lady Gaga shines with silver hair and makeup and silver glamour gown by stylist-turned-designer, Brandon Maxwell.
Gaga compliments this fine black-and-white old-school Hollywood film look with a grand drop-shaped emerald pendant on a sparkling chain, emerald drop earrings and emerald bracelet. A luscious red-carpet choice!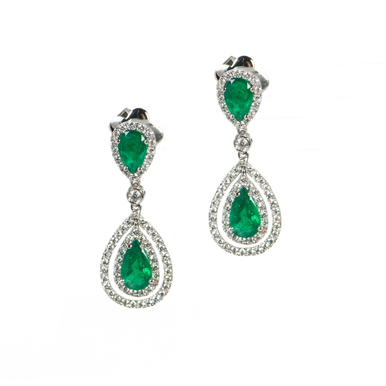 Get the Look!
Plunging necklines were featured in designs from sexy gowns to gender-bending tuxedos.
From left to right: Anna Kendrick, Kim Kardashian, Lady Gaga, Nicki Minaj, Ashanti
Taylor Swift wears green opal earrings to go with her sea-green and turquoise gown.
Get the look!
Stunner: Ellie Saab ombre gown and perfectly colored opal ring to match.
Beyonce walks the red carpet with a huge emerald rock adorning her finger and a menagerie of emerald stones cascading down chandelier earrings.
Get the look!
Beyonce wears this classy black sparkling ensemble on the red carpet.
---