Posted by Winona Richardson, G.G. on 6th Jul 2020
"One day, I'm going to find you the most perfect ruby in the world." - Richard Burton to Elizabeth Taylor.
True to his word, in 1968, Mr. Burton presented his lady love with an 8.24 carat oval Burma stunner framed in diamonds and set in 18K yellow gold. As described by Ms. Taylor:
"I opened the box very, very slowly. Inside it glowed with the fire of the most perfect colored stone I'd ever seen. With the most perfect cut. I'm sure I almost fainted. I screamed, which probably echoed over the mountains, and I couldn't stop screaming. I knew I was staring at the most exquisite ruby anyone had ever seen."
When the ring was auctioned in support of Elizabeth Taylor's Charity in 2011, the ring's final hammer price was $4,226,500 - the highest per carat for a ruby at the time. Quite befitting of a jewel known as"the King of Gems".
It's in the name! The Sanskrit word for ruby, Ratnaraj, means exactly that - THE KING OF GEMS. If you are looking for a gem to celebrate the queen of your heart, ruby is a mesmerizing choice.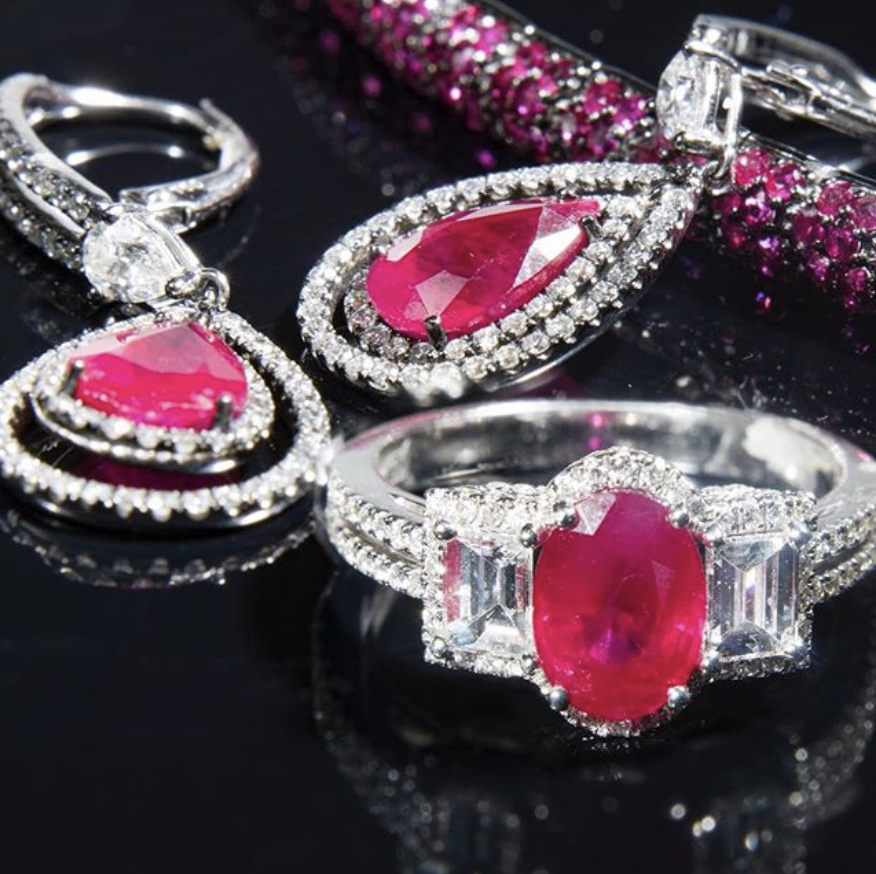 Of the terms used to describe gem colors in common parlance, the most well-known is the description of ruby is that of "Pigeon's Blood".While no harm came to said pigeons in the process of procuring rubies from the earth (we would hope!), the term refers to both the color saturation and the secondary hues that are present in fine ruby. For corundum to be dubbed the prestigious moniker of ruby (rather than fancy sapphire),the gem must display a color that is identifiable as red - the result of the presence of the mineral, chromium, in the crystal structure of the stone. In nature visually pure color is extremely uncommon. Most rubies display a mixture of colors.
In gems, we normally speak of a primary and a secondary color (or colors) or hue. Ruby may exhibit one of a few possible secondary hues. These are: pink, purple and orange. The blend of red and purple yield a uniquely rich saturation - the color we envision when we think of "Pigeon's Blood".
While tradition celebrates ruby as this particular shade, many gem enthusiasts prefer rubies that display glimmers of orange and pink. These colors give ruby a lift of bright and perky color that's easy to fall in love with. No matter what you fancy, there's a ruby-set jewel for you.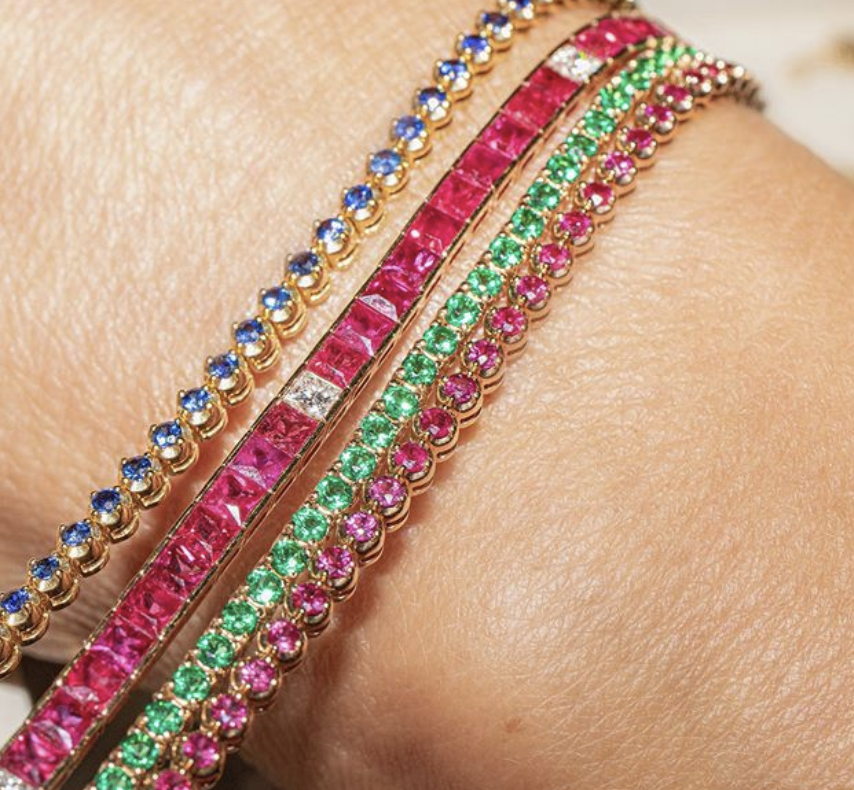 At Soho Gem, our love affair with ruby is only matched by our never-ending obsession with all fine sapphire! From rare unheated vintage stones of Burmese origin, to the lively fire and fine crystal quality of Mozambique and Tanzania sourced gems - your ideal ruby treasure can be found in our little jewel box at the corner of West Broadway and Broome. Durable and beautiful like their sapphire siblings, rubies are ideal stones for the everyday wear of a ruby engagement ring or anniversary ring. Mixed with diamonds and other colored gemstones - ruby adds a smoldering pop to earrings, necklaces, and bracelets. If you've never thought of yourself as a "ruby person" - we've got some designs that will be a refreshing surprise.
For your July birthday sweetheart, your 15th wedding anniversary, your celebration of 40 years together, or just for yourself! You'll be swooning over rubies just like a Hollywood Legend.